Dear Members,
Welcome to the Federation of Indian Fantasy Sports family. I am delighted to announce the first edition of the official FIFS newsletter. This will drop in your inboxes, once every month and we will bring you all the updates from what's happening in the world of fantasy sports and how our members are engaging with the gaming world.
From the autumn of 2022, FIFS will promote online gaming and fantasy sports at a national level, and we hope to work closely with the Government of India as we move towards a  stable regulatory framework.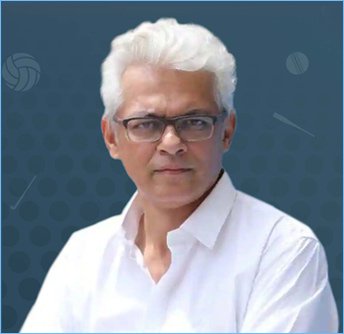 By no means will this journey be easy as there can be many a slip between the cup and the lip. We will leave no stone unturned as we pursue success for the Fantasy Sports fraternity in India.
We hope you enjoy this newsletter and we are also opening up our mailboxes for you to give us suggestions about both this newsletter as well as the activities of FIFS. I look forward to connect with you.
Warm Regards,
Joy Bhattacharjya
About Federation of Indian Fantasy Sports
The Federation of Indian Fantasy Sports (FIFS) was founded in the year 2017, with a single-minded purpose to create a self-regulation body and promote the best practices across the Online Fantasy Sports services and contests offered in India. The purpose has always been to create high standards for the operational efficiency of the FS industry and to create universal regulations across the country. FIFS acts as the representative national body to protect the interests of Online FS contest users and operators in India and endeavors to create awareness about the sector, promote its adoption and create a conducive environment for the growth of the industry at large.
Read more
FIFS aims to create a thriving ecosystem for the Fantasy Sports industry in a sustainable and fair manner that secures the interest of players and promotes the growth of OFS platforms in India by setting standards of operation and creating a regulatory framework.
Defining Online Skill-Based Games: FIFS is working towards developing broad and generic definition(s) of Online Skill Games that can sustain the test of time and technology.
Light touch regulatory framework: In collaboration with stakeholders, FIFS aims to introduce a light touch regulatory framework to enable the industry's growth. We, at FIFS, recognise that creating an industry-led Self-Regulatory Organisation (SRO) has to be the preferred mode of governance to ensure complete transparency, consumer protection, and accountability. The charter, bylaws and code of ethics of these organisations shall incorporate responsible gaming, responsible advertising and consumer protection rules to ensure formats are offered in compliance with law.
Dispute resolution mechanism: FIFS also aims to introduce a multi-tier dispute resolution mechanism on OGS to safeguard consumer interest.
Enforcement Mechanism: FIFS aims to create a mechanism to block illegal operations that are not compliant with the due diligence requirements and code of ethics provided under the guidelines.
Read more
A) Major announcements


i. FIFS Welcomes Joy Bhattacharjya as the Director-General
The Federation of Indian Fantasy Sports (FIFS), India's first and only self-regulatory industry body for fantasy sports, announced the appointment of Mr. Joy Bhattacharjya as its Director-General. In this role, Mr. Bhattacharjya oversees the functioning of the body and works with policymakers and industry stakeholders alike. Joy is a well-known figure in India's sports & media entertainment industry and can be rightly hailed as the "Godfather of Fantasy Sports in India'. From designing India's first ever fantasy sports game – the 'Super Selector' for ESPN Star Sports, to coming onboard FIFS – it is a perfect synergy.
Read more

ii. FIFS Appoints Two Former Judges as Panel Members of Fantasy Sports Regulatory Authority
The Federation of Indian Fantasy Sports (FIFS), India's only self-regulatory body for the fantasy sports industry appointed Justice (Retd.) Mukul Mudgal, former Chief Justice, Hon'ble Punjab and Haryana High Court and Justice (Retd.) G.S. Sistani, former Judge, Hon'ble Delhi High Court as panel members of Fantasy Sports Regulatory Authority (FSRA). Eminent jurist, Justice (Retd.) A.K. Sikri, former Judge, Hon'ble Supreme Court of India is the Chairman of the FSRA.
Read more


FIFS in Media: News & Views


Grey matter "matters" in fantasy sports
Fantasy sports and Online gaming has often faced scrutiny about whether it is a matter of skill or luck. And while luck does play its role, being able to anticipate outcomes based on calculations and projections is nothing short of application of significant levels of skill.
Read more – June 11
Fantasy Sports: Why The Sector Has Been Witnessing A Humongous Growth In India – Suhail Chandok
Sports fans in India were used to being passive observers earlier but with the rising spread of the internet and social media, it has allowed the fans to progress to being more active in their manner of engagement with their favourite sports and stars. Fantasy Sports users can keep themselves updated with sports news, records, scores, and experts' analysis anywhere, at any time, thus increasing their engagement with their favourite sports, and in turn, fantasy sports platforms – all this due to the internet – the major reason for the uptick in the number of users.
Read more
Google okays fantasy sports and rummy apps in India in a pilot
Android users being frustrated about the fact that fantasy sports apps were not available on Google's playstore. However, Google will begin a pilot project for a year from 28 September. Industry groups representing fantasy sports operators such as Dream11 and Mobile Premier League have for years lobbied to get Google to allow their apps on Play Store, often questioning the legal jurisdiction for the company's thinking.
Read more

"Fantasy Sports has bridged gap between rural and urban India, connecting fans without boundaries": Joy Bhattacharjya, Director of FIFS
Fantasy sport has brought people from all walks of life closer as they all connect with one common theme. Fantasy Sport to India now is what TV was to Indian cricket when Kapil's Devils ruled the world. India have already overtaken USA in terms of the ecosystem and is growing at rapid pace. And just like mobile phones penetrated the Indian market at rapid pace, FS has grown by leaps and bounds, and more non Tier 1 city users are engaging with it.
Read more
Join FIFS today to get access to the resources and network trusted and used by thousands of Fantasy Sports professionals to grow their businesses.